Post by Gokhan on Jan 6, 2010 16:38:12 GMT -8
The last CPUC doc on Dorsey Crossing calls it the "Exposition Boulevard Transit Corridor Light Rail Transit Line"
I think you all agree that a consistent naming scheme is important to avoid confusion. Commuters unfamiliar with the system may think the line is a separate system such as Metrolink because it does not conform with the established naming scheme.
Hmm, consisting naming scheme... How about "Edward R. Roybal Línea de Oro Eastside Extension?"
Actually the Expo Line is rather more like Metrolink than, for example, the line I mentioned above in that it's a high-speed line that uses private railroad rights-of-way controlled by crossing gates. The main thing in common within the Metro lines is the operator, we have anywhere between a bus (Orange Line) and heavy rail (Red and Purple) and quite different kinds of light-rail.
But, regardless, it's false that the name "Expo Line" has not been officialized.
The official name "Metro Expo Line" was adopted on August 24, 2006, and it's final.
The only thing that will be determined in the future is the color in the maps, but no board decision is needed on that as the Metro staff will already be using the well-established "aqua" when they draw and print the lines in the maps. But the name is the "Metro Expo Line," adopted at the following Metro board meeting:
Name "Expo" as the official name and color "rose" to be used in the maps is rejected:
Name and color "Aqua" is rejected: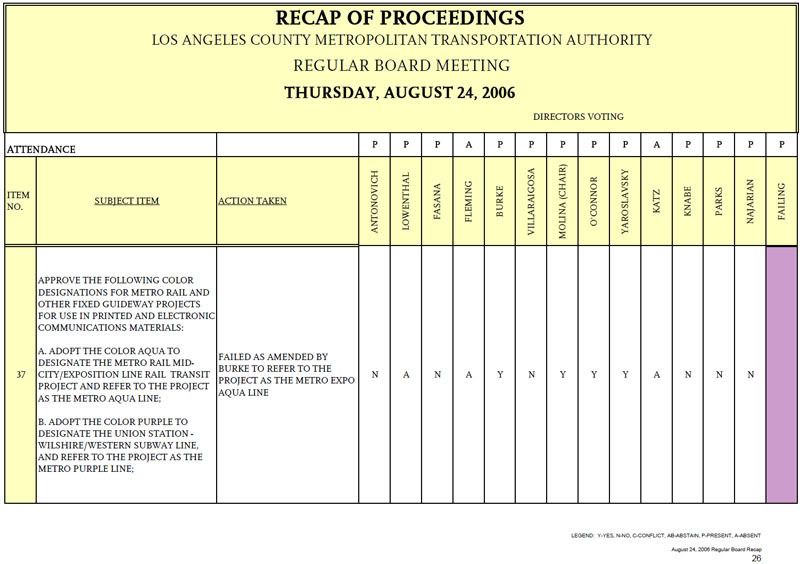 Name "Expo" adopted as the final official name and color to be used in the maps is deferred to the future:
I, personally, have always been happy about the adoption of the name Expo Line more than three years ago now. Color names get more and more obscure and they poorly identify the actual lines. After all, what is red about the Red Line, gold about the Gold Line, etc.?